Tuesday, August 31, 2010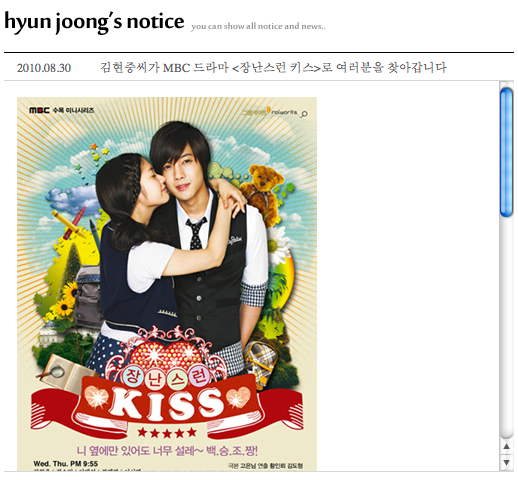 안녕하세요, 키이스트 입니다.
창문 밖으로 들려오는 빗소리에 귀 기울이다 문득 가을이 가까워졌음을 느꼈습니다.
끝나지 않을 것만 같던 여름도 가을의 시작 앞에서는 떠날 채비를 하고 있는 듯 합니다.
지난 8월 26일에는 드라마 <장난스런 키스> 제작발표회가 있었습니다.
김현중씨의 두 번째 드라마 <장난스런 키스>에 대한 높은 기대를 증명하듯 국내외 수많은 취재진들이 몰려들어 그 열기가 뜨거웠는데요,
무엇보다 팬 여러분들의 관심과 응원 덕분에 무사히 행사를 마칠 수 있었습니다.
특히 김현중씨와 키이스트는 물론, 드라마 제작 관계자분들 역시 팬 여러분들의 정성과 따뜻한 마음 덕분에 큰 힘을 얻었습니다.
그날 얻은 힘을 밑거름 삼아 좋은 드라마를 통해 팬 여러분들께 보답할 수 있도록 최선을 다할 것을 약속 드리며, 다시 한 번 깊은 감사의 마음을 전합니다.
김현중씨가 출연하는 MBC 새 수목 드라마 <장난스런 키스>는
오는 9월 1일 밤 9시 55분 첫 방송을 시작으로 매주 수, 목요일 밤에 여러분을 찾아 갑니다.
여러분들의 변함없는 관심과 사랑 부탁 드리겠습니다.
덧붙여, 김현중씨의 공식 홈페이지 제작 작업이 마무리 단계에 접어들었습니다.
여러분들과 보다 편하고 자유롭게 소통할 수 있는 공간을 만들기 위해 최선을 하고 있으니 많은 기대 부탁 드립니다.
팬 여러분들 모두 건강과 웃음이 가득한 하루하루를 보내시길 바랍니다.
감사합니다.
키이스트 올림
English Tranlation:
(by: SS501ode.blogspot.com)

Hello, this is KEYEAST.
These days the autumn is coming in Korea. We hope every member has memorable autumn days this September.
As you already know, the press conference of 'Mischievous Kiss' was held on Aug. 26.
On the spot we could feel burning interest and expectation of the press at home and abroad for KHJ and the drama.
Thanks to your support, the conference was finished well, and every staff was encouraged. We truly appreciate your care and support. KHJ and all the staff will remember your love all the time and make every effort in order to return your favor.
The highly anticipated drama, 'Mischievous Kiss' will be broadcasted at 9:55 pm. every Wednesday and Thursday starting on Sep. 1st. We kindly ask your everlasting love and interest for the drama and KHJ and hope you all enjoy the series fully.
Additionally, KHJ's official homepage is almost completed. Please be known that every staff has been trying hard to make a comfortable open space to communicate with all the fans and wait for it with expectation. We are looking forward to meeting you through the new homepage soon.
Hope you have a great day.
Thanks.
Sincerely,
KEYEAST.
Posted by

ishamei501
at 11:04 AM
0 comments

Links to this post
Monday, August 30, 2010
SS501′s maknae Kim Hyung Jun came to Singapore alone, stated that he did not want to be called 'cute' in future. His birthday just ended in early August and disclosed that leader Hyun Joong never give him a birthday present, and complained that he is a "bad boy".
Kim Hyung Jun is one of the members in korea band SS501. Since June when their contract with their previous company ended, each member has gradually take turns to signed with other companies. Recently, he also signed with S-Plus entertainment company, starting his "solo" activities.
Yesterday, Kim Hyung Jun came to Singapore for the first time as an individual and help a showcase at Republic Poly. About 80% of the tickets are sold by the organizers.
Apart from performing
"Girls", "Mars Men, Venus Women" and "I am" together with his korean dancers, he also played games with 20 lucky fans. Being articulate, he kept showcasing his English by throwing praising words to the fans, making everyone super elated.

Hyung Jun was very touched by the fans' enthusiasm. Being an emotional person, he cried after watching the video and song specially created and written for him by fanclub.
Hyung Jun stated:
"i am nervous as i came to Singapore alone. Therefore, i did a lot of preparation in Korea. Seeing so many fans supporting me, i am very touched and also very happy. i hope in future, i am able to stay in Singapore".
Wanted to become
"manly",
don't want to be praise as
"cute".
Handsome Kim Hyung Jun is the maknae(youngest) in Ss501, fans nicknamed him as
"Baby",
had turned 22 years old on the 3rd of August. Even though he portrayed his cuteness during the showcase, but during xinmsn's interview, he said that he did not want to be labeled as cute in future!
Kim Hyung Jun told the reporter:
"Up til last year, i am ok with fans saying that i am cute. But this year, i changed my mindset, hoping that fans will praise me as being charismatic and manly.
He spoke in English, seriously:
"i'm a man".
Kim Hyung Jun proudly clenched his fist, stating recently he is keen in working out in the gym. He also watched quite a number of dramas, learning how the male leads portray their mature side. He chuckled that he likes to watch kissing scenes, as he felt that it is very manly.
Kissing scene with female actress? Kim Hyung Jun:
very shy!
However, even though likes to see others kiss, but when being ask about his view of intimate scenes in his future acting projects, he is unable to conceal his shyness.
Kim Hyung Jun stated that he is willing to follow the directions of the director. The reporter saw Hyung Jun said
"please"
to the camera, asked if that implied that he wished to have kissing scenes. He quickly reply:
"Kissing scenes? i am shy! But, no matter is what character, what scene, i will do my very best. And, after all, it is only acting".
Kim Hyung Jun disclosed that if able to have the opportunity to work with female artiste like Shin Min Ah(model) and Kim Tae Hee(actress), he will be very honoured.
As for what role he wanted to act, Kim Hyung Jun said that due to the fact that he watched Lee Byeong Heon acted in , thus he hope to act as someone with a strong character, one which is able to leave a deep impression in people, eg. killer.
Disclosed leader Kim Hyun Joong has poor memory, forgets about his birthday.
Actually, ever since Ss501 gradually started on their individual activities, fans are most concerned about when they will gathered together again.
As per mentioned by the other members before,
Kim Hyung Jun reassured that signing contract with new management company and kicked start solo activities, does not mean that SS501 is disband.
"We are still together, our relationship is also very good. If possible, we hope to stand on stage together as soon as possible. While focusing on our individual careers now, we are still planning and preparing for our future concert and performance".
Early August, Kim Hyung Jun had a fanmeeting in Korea to celebrate his birthday. Every members appeared apart fr leader Hyun Joong due to busy filming schedules. Baby is touched to tears seeing them, portrayed Ss501 great relationship.
Will Kim Hyun Joong make up the present in future? Hyung Jun happily disclosed that
"Hyun Joong is quite forgetful, cannot remember important stuffs, but i believe that even though he is away busy with filming, but deep in his heart, he will congratulate me".
Speaking of presents, Hyung Jun sighed:
"No present. This is not the first time, i am not surprised".
Hyung Jun even took the chance to "scold" leader,
"Bad boy, Leader bad!"
. Seems like he is really used to Hyun Joong's forgetfulness, and did not put it to heart.
Next, Hyung Jun is expected to participate in a musical, and will released his solo album next year, plus involvement in dramas. In addition, he also plan to start a business with his brother Kim Ki Bum(U-Kiss member) and become his own boss.
Credit: Chinese news @ xin.msn.com
English translation: cloud0_o @ SgTripleS

Posted by

ishamei501
at 12:34 PM
0 comments

Links to this post
Posted by

ishamei501
at 12:27 PM
0 comments

Links to this post
Credits to http://cafe.daum.net/khj-miclub + rrzztube
Posted by

ishamei501
at 12:25 PM
0 comments

Links to this post
Posted by

ishamei501
at 12:18 PM
0 comments

Links to this post